Profile of AMTDC
Advanced Manufacturing Technology Development Centre (AMTDC) is a Centre of Excellence on Machine Tools and Production Technology supported by the Department of Heavy Industry (DHI), Government of India in collaboration with Indian Machine Tools Manufacturers under the scheme "Enhancement of Competitiveness in Indian Capital Goods Sector". AMTDC is one of its kind in India, bringing the concept of Industry-Academia collaboration into reality. It is set up in IIT Madras Research Park, a nodal infrastructure for academia-industry interaction under one roof, to offer solutions for developing advanced technologies in capital goods manufacturing sector with the collaboration of industrial partners.
Vision

AMTDC's vision is to serve as a synergistic institution for transformational research that combines the expertise of eminent faculty, industry experts, researchers, engineers and enthusiastic students to innovate commercially viable solutions / technologies / product for capital goods manufacturing sector in India.
Mission

The three main missions of the centre is to create Technologies that are commercially viable for use in capital goods manufacturing sector High quality human resources for manufacturing sector Opportunities for incubation of new technologies and promote business development for MSME/SMEs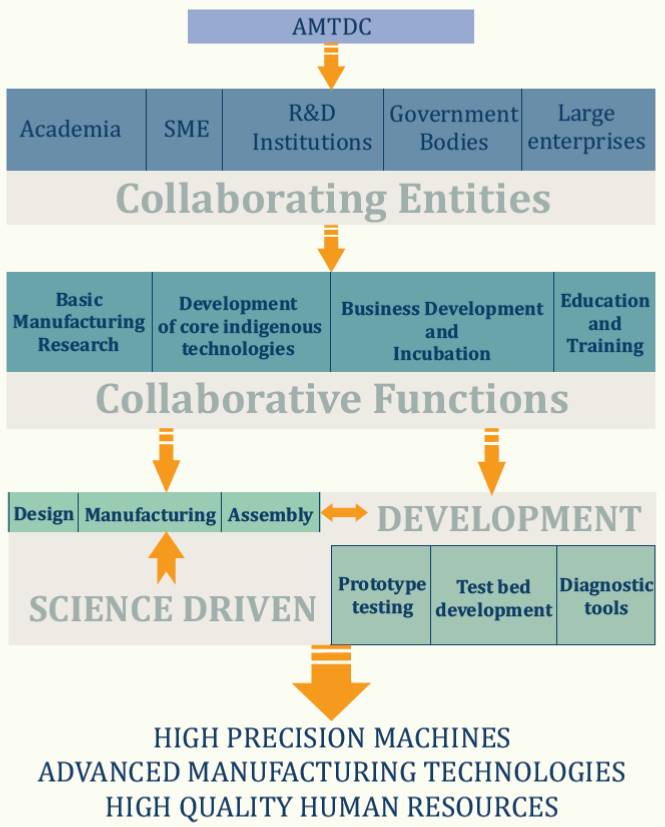 Guiding Principle

The main guiding principle of AMTDC is to create End to End Innovation, which translates as being innovative right from the stage of conceptualization to the stage of creating a commercially viable end product. According to Dr. K Subramanian, President, STIMS Institute, USA, End to End innovation is an aspect of transformational skillset required to be part of a professional involved in creating exceptional and relentless solutions. As AMTDC is a synergy of such professionals across the domain of basic research to applied research, End to End Innovation forms the guide light for the adventurous pathway of innovation.